What is NAS?
When a fetus is exposed to addictive substances such as alcohol, cigarettes, illicit drugs or prescription painkillers, and develops an addiction to them, the baby may experience postnatal Neonatal Abstinence Syndrome (NAS), shown through withdrawal symptoms hours or days after the birth.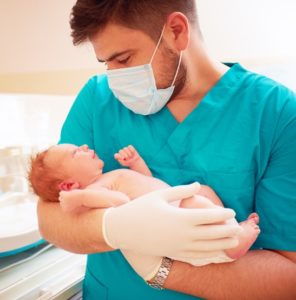 According to the Neonatal Abstinence Syndrome Clinical Practice Guidelines for Ontario, NAS is particularly experienced by infants who were exposed to opioids such as morphine, methadone, codeine, oxycodone and heroin before birth. This exposure creates a physical dependence on those substances that often results in withdrawal in the infant after birth.
Withdrawal is likely to be different depending on the substances the infant has been exposed to, their gestational age and health, and the care and support they receive.
Hahn et al in Neonatal Abstinence Syndrome: The Experience of Infant Massage states that "NAS is characterized by crying, difficulty sleeping, tremors, poor feeding, emesis [vomiting], loose stools, sneezing, yawning, fever, and respiratory distress."
According to the March of Dimes, in acute withdrawal, a baby is likely to experience fussiness, excessive crying or having a high-pitched cry. In addition, you may see poor feeding, poor sucking or slow weight gain, fast breathing, fever, sweating or blotchy skin, trouble sleeping with lots of yawning, diarrhea or vomiting, or a stuffy nose or sneezing.
How Common is it?
The U.S. Centers for Disease Control and Prevention found that births of babies with NAS went from 1.5 cases for every 1,000 births in 1999 to 6 cases per 1,000 in 2013. And adult use of potentially addictive prescribed and illicit drugs have increased at alarming rates since 2013.
The Centers for Disease Control and Prevention estimates that about 24,000 drug-dependent babies were born in 2013, the last year for which there are complete statistics. That is one baby every 20 minutes. 18 (The Heartbreaking Withdrawal of Drug-dependent Newborns. By Gail Bagwell and Amy Thomas, Nationwide Children's Hospital.)
More than 75% of infants exposed to drugs have major medical problems, compared to 27% of unexposed infants. (MacMullin, Dulski, Blobaum, 2014)
The average hospital stay for baby with NAS is 25 days (Backes et al 2012).
NAS births cost 10X the cost of normal births. (Statesman, January 17, 2015)
What are We Learning about the Care of Babies with NAS?
As the number of babies exposed to drugs before birth has increased, hospitals have been able to carefully study the relationship between care and withdrawal symptoms.
Yale-New Haven Children's Hospital found that: "We noticed when these patients would come to the inpatient unit where they could room-in with their moms, they were doing better than they were reported to be doing in the NICU," says Matthew Grossman, M.D., assistant professor of pediatrics at the Yale School of Medicine and quality and safety officer at YNHCH. "So we would say, 'does this kid need more medicine or more mom?' And we started to come down more on the mom part of it." So NAS babies are no longer treated in the NICU, but roomed in with their mothers, and the length of stay has gone from 27.5 days to about 7.5 days.
At the Children's Hospital at Dartmouth-Hitchcock in Lebanon the first line of treatment is supportive care, such as swaddling the baby and feeding when the baby is hungry. . . keeping NAS babies out of the NICU and improving their feeding and their bonding with their parents, CHaD was able to decrease the number of patients receiving medicine from about half of them to one in five.
Nationwide Children's Hospital in Columbus OH developed a new protocol to reduce duration of treatment with opioids used therapeutically to wean babies off drugs and reduce the length of stay. It uses consistent weaning plans balanced out by non-pharmacologic treatment such as cuddling, holding, quitet using a lactose-free formula, making sure mom is breastfeeding if she can, They layer on holistic practices including infant massage, skin barriers to protect the skin, and a cuddler program, along with private care rooms that allow parents to care for and easily bond with their babies.
Many early NAS programs started by isolating babies, darkening the room, cutting out all stimuli and discouraging or forbidding parent-baby interaction, including breastfeeding. Now care in progressive environments has swung the other way. Medical professionals are finding that parents who do skin-to-skin or kangaroo care, who breastfeed their baby, and who learn how to read and respond to their baby's needs immediately have infants that require no or very little therapeutic drugs for withdrawal.
Working with NAS Families as an Infant Massage Instructor
Our work as Infant Massage Educators is guided by the needs of the parents and the perceived needs of their child. This is communicated to us through the cues the baby gives and the parents' intuitive response to them.
While it is very helpful as Infant Massage Educators/Instructors to have an understanding of a baby's diagnosis so we can better understand a child's needs, our response is ultimately guided by the parent's actions and the baby's responses.
So we look to the baby's cues and the expertise of the baby's parent(s) to guide the touch dialogue between parent and child.
The needs of every child are unique, yet the topics that we explore with all families are generally relevant for all parents. These include:
Setting the environment for a successful touch experience.
Centering themselves and focusing on their baby.
Helping parents recognize their baby's cues.
Positioning the baby and themselves for maximum comfort and eye contact.
Asking for their baby's Permission.
Responding to a baby's needs with appropriate touch, including skin-to-skin, holding, still-touch and stroking.
Supporting the development of bonding and attachment.
Teaching Touch Relaxation.
Understanding when to and how to end the touch experience.
Education and sharing about topics such as crying, sleeping, soothing, and the growing child.
Using the Five-Step Dialogue
The Five-step Dialogue is taught to parents by IAIM CEIM/CIMIs for babies born-prematurely. However this slow and attentive approach is applicable to any sensitive baby. And babies going through withdrawal or recovering from it are certainly sensitive!
The Five-Step Dialogue includes:
Setting the scene, observing and preparing
Asking the baby's Permission
Recognizing and responding to cues
Touch communication
Completion
A great place to start with touch for a drug-exposed baby is skin-to-skin immediately or as soon as possible after the birth. The comfort of a parent's chest does much to ease the transition for a newborn, no matter what their challenges. Kangaroo care – laying or sitting with your baby snuggled on your bare chest for long periods of time – will help your baby's heart rate and breathing become more regulated, while at the same time helping you and your baby release hormones such as oxytocin which are a natural antidote to stress and an aid to the development of a close bond.
Most hospitals will support a parent in giving skin-to-skin and kangaroo care to sensitive newborns. A parent can also get help from their CEIM or a hospital nurse with learning to comfort the baby, position them in a way which reduces their stress, and give them developmentally appropriate nurturing touch.
The CEIM will teach the parent hand cradling, using a still hand to support and comfort a baby and hold them in a comfortable position, which is very reassuring to a newborn baby.
For a new parent, it is important to get guidance from a Certified Educator of Infant Massage (CEIM; known as a IAIM CIMI internationally) as they expand the touch they give their baby, adding strokes only as the baby indicates readiness and interest.
You can find a CEIM through Infant Massage USA, and internationally through the International Association of Infant Massage.