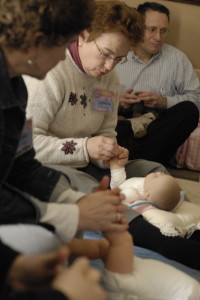 Why Become an Infant Massage Parent Educator?
Become a certified Infant Massage Educator (CEIM) and help parents use nurturing touch to feel closer to their babies, reduce their colic and fussing, sleep better, and become healthier and happier.
Infant Massage USA's four-day instructor certification training will teach you to educate parents and caregivers to massage their infants and children.
What is Included in the Training Curriculum?
Our 15-point curriculum, designed by Vimala McClure, author of Infant Massage, A Handbook for Loving Parents, will give you the knowledge base, experience and confidence you will need to teach parents individually and in classes. You will get practical experience teaching infant massage through the three-day parent-baby class in each training.
If you would like a detailed schedule for the training, please contact me directly.
What can You do as a CEIM or CIMI?
As a Certified Educator of Infant Massage (CEIM), you will be able to work with parents and families in private, group, hospital and agency settings. In addition to educating parents, you will be able to participate in research studies, conduct in-service programs, and present at professional conferences.
Our Affiliations
Infant Massage USA is the U.S. affiliate of the International Association of Infant Massage, whose international offices are located in Sweden.
Our organization was founded and is supported by Vimala McClure, author of Infant Massage, A Handbook for Loving Parents.
For more information about our international community, visit www.iaim.net.
Who Should Take the Training?
Nurses, midwives, childbirth educators, early intervention specialists, NICU staff, OTs and PTs and many others have found this training to be a wonderful tool in their work with families. Find out about the many fields that offer CEUs to participants in our instructor trainings.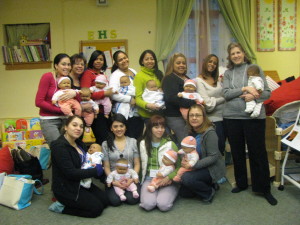 The four-day training includes exploring the benefits of infant massage and nurturing touch, learning the strokes on your doll, the five-week parent curriculum, practical teaching skills, parent-support skills, and includes a one-day immersion workshop on parent-baby communication. We will talk about using touch to support the baby born prematurely, and other babies that are extra-sensitive, such as those born with NAS and drug-exposure. We will talk about working with babies and families with special needs.
Testimonials
"I just wanted to thank you for the wonderful training and mentorship you provided my entire group . . . it was a truly life-changing experience for many of us and a big part of that is due to your wisdom and patience. You have been an inspiration to me . . . ."
"The training was excellent! . . . It was an incredibly profound experience for me and far exceeded my expectations. . . . As the four days progressed I became aware of the inner peacefulness and calming that I was experiencing due to the atmosphere in the training course created by Jody Wright. . . . A wonderful but truly unexpected experience! . . . It reaffirmed my utmost joy in working with parents and infants."
"I loved ALL aspects of the training! . . . I appreciate being given the opportunity to be part of such an incredible and empowering group for parents and their babies."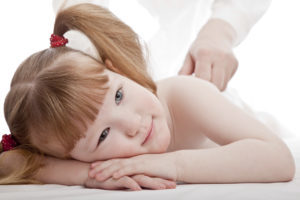 "The 'real life' baby and parent classes were WONDERFUL and really helped to put what we learned into practice. . . . I was impressed to see firsthand how the parents can bond with the babies, and to hear how it has helped them both."
"The course is a must-have for any professional working with infants or working with parents of infants . . . everyone should know this information." – from the head of an Early Intervention Agency
"A simple and in-depth course, fully preparing me to bring the knowledge to families – a great sense of ease and relaxation! Highlighting teaching families how to teach their children consent, and boundaries from infancy."
"As a pediatric PT, this course has given me a great tool to help parents feel more connected to their children."
"Made me look at touch in a whole different light. How a simple stroke of a hand can stimulate a bond with your child."
"The training combines discussion, demonstration, hands on practice, videos, positive feedback and is presented at a gentle pace. A very well-thought out course that includes written material to support learning and carryover."
"Not only have I learned an invaluable skill, but I have also met 13 new friends!"
"Personally the training was thorough,, relevant, informative & paced in a way and presented in a way that facilitated learning and integration. It was a wonderful 4 days."
"Jody was caring, thoughtful, inspiring and very well-informed about the process. I feel very well trained."
"Jody is great! The focus on relationships, cues, development, and special circumstances – rather than just learning rote massage strokes and techniques – is invaluable!"
"Jody is very knowledgeable about massage, Infant Massage USA and marketing. I learned valuable things during each class. Well worth it!"
"[Talking with others since our training], I feel like I have gotten even more inspired to share this with others. I thoroughly enjoyed how you teach, and appreciate that you shared the wisdom of the experiences you have had.